Should a Business Owner Hire a Tenant Representation Broker?
By Nathaniel Mallon | Dec 06, 2022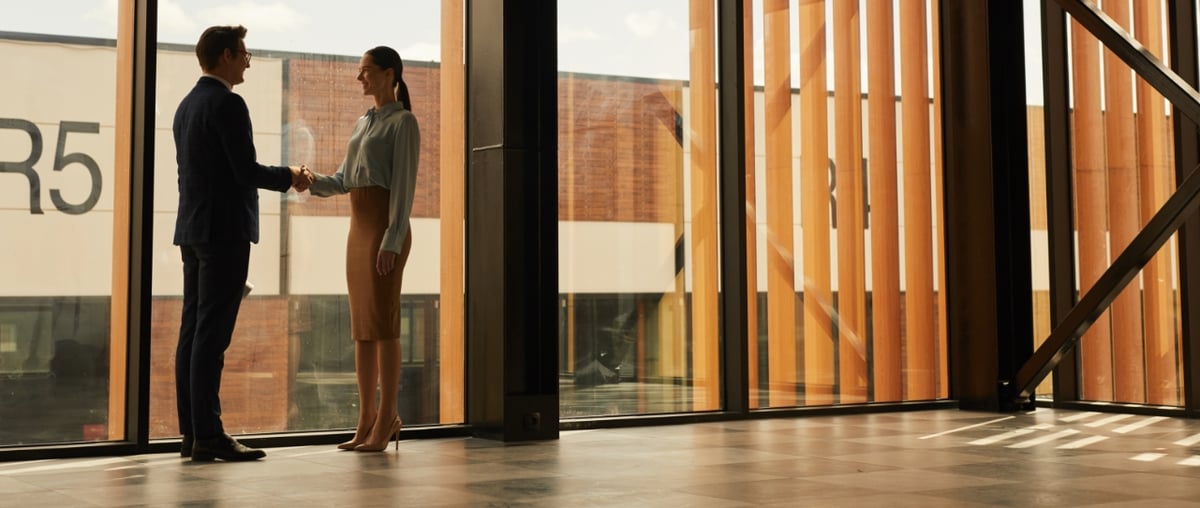 Tenant representation brokers are exactly what they sound like: they handle the tenant side of commercial real estate transactions. These brokers help guide business owners through the entire leasing process, from the initial needs assessment and site selection to occupancy, lease expiration, and beyond. While utilizing the services of a tenant representation broker may seem out of reach for some businesses, it is typically free and can help them achieve the best possible leasing terms. Even those who already have a lease that is about to expire or whose current office no longer meets their needs—because it is too big or too small—can benefit from tenant commercial real estate representation. These brokers can help make the process of finding a property or renegotiating a lease less overwhelming.
What is a tenant representation broker?
A tenant representation broker, or tenant rep broker, represents the tenant in the leasing process. Unlike traditional brokers, they work exclusively with tenants rather than landlords. They work across all commercial real estate sectors, helping clients identify a space and negotiate a lease for a retail store, business office, industrial warehouse, or other commercial purpose.
Listing brokers, on the other hand, advocate for the landlord. They essentially work with the landlord at every stage of a commercial real estate transaction. They complete a range of tasks, including setting a competitive price for the property, marketing it to attract potential tenants, and eventually leasing it. Listing brokers also handle property viewings and open houses and screen potential tenants.
Who should hire a tenant rep broker?
Any business looking for a new space or renewing a current lease can benefit from hiring a tenant rep broker. The benefits of using such a professional—which are outlined below—generally outweigh the costs. However, it is important to note that many tenant rep brokers work only with clients looking for a large retail space—more than 1,000 square feet, and some limit their client base to those looking for 5,000 square feet or more. Even with these limitations, however, it is wise for business owners to consult with a tenant rep broker to see how the broker can best serve them.
What does a tenant rep broker do—and not do?
Most tenant rep brokers offer a wide range of services, all directed at simplifying the leasing process for the tenant while negotiating the best deal for the space. Most tenant rep brokers do the following:
Complete a market analysis, examining market trends and average rental rates

Identify on- and off-market prospective locations

Review locations and help clients understand which space is optimal for their business

Submit letters of intent to landlords

Negotiate the terms of the lease (both new leases and renewals)
It is just as important for potential tenants to know what a tenant broker rep cannot do:
Make decisions on behalf of a business owner

Take the place of a lawyer when it comes to reviewing a lease





Why use a tenant rep broker?
From finding the right property to negotiating commercial real estate terms, a tenant rep broker can be an advocate for business owners every step of the way. Their support can ensure the process goes smoothly and business owners get a fair deal.
Here are some of the primary reasons a business owner should consider hiring a tenant rep broker:
Tenant Rep Brokers Can Help Business Owners Understand Their Needs [H3]
Business owners are experts in their industry—for example, coffee shop owners are experts in brewing and selling coffee, insurance agents are experts in helping clients identify the best insurance for their situation, and childcare centers are experts in child development. Similarly, tenant rep brokers are experts in identifying prospective spaces, understanding how each space suits a particular business, and negotiating leases. These professionals can help business owners identify commercial space needs that they may have otherwise overlooked.
Tenant Rep Brokers Represent Tenants Only
Tenant rep brokers work for tenants, not landlords. This means brokers are looking out solely for the tenant's needs throughout the leasing process. The tenant rep broker's commission is based on successfully executing a lease for the tenant and ensuring the tenant is effectively represented. Realistically, most of a broker's business comes through referrals, so doing a good job for the tenant is a necessity.
Tenant Rep Brokers Pay Attention to a Business Owner's Needs
As the tenant progresses through the leasing process, their needs and wants for a retail space may shift. Since most tenants are still running their business during this process, they can overlook many of the fine details. A tenant rep broker assures this does not happen—after all, the broker's primary job is to pay attention to the client's needs and help the client find a space that is best suited for the business.
Tenant Rep Brokers Have an In-Depth Understanding of the Market
In addition to being attune to their clients' needs, tenant rep brokers are experts in their associated markets. They spend much of their time reviewing prospective spaces, building relationships with industry experts (including landlords), and negotiating leases based on changing market trends. This in-depth understanding of the market can be a valuable tool for tenants in the leasing process.
Tenant Rep Brokers Give Business Owners Access to More Options
Outside of on-market listings, which can easily be found on commercial listing services, tenant rep brokers have access to off-market inventory. A reputable broker will have established relationships with both landlords and leasing brokers, allowing them to receive updated information on what is available. Using their industry connections, tenant rep brokers get access to information about spaces that may not be on the market yet.
Tenant Rep Brokers Can Save Business Owners Valuable Time
Saving time is especially important for small business owners who wear multiple hats and need to focus on daily operations. They do not have time to call and vet every available space. With the help of a tenant rep broker, business owners can save valuable time when it comes to vetting properties.
Knowing which spaces are available in the tenant's target neighborhood and budget is a core area of knowledge for a good tenant rep broker who can access information from databases and fill in the blanks for listings using market knowledge and professional relationships. From these sources, they can produce a list of viable options in the right location and at the right price point for the tenant. Once the search is narrowed to the final two or three spaces, they can also arrange for tours of the properties with the landlord or listing agent.
Tenant Rep Brokers Help Negotiate Deal Terms
What goes into a lease? A lease includes not only the rental rate but various other clauses that can impact a tenant's use of the space. For example, a lease outlines who is responsible for paying the bills, the consequences of breaking the contract, and rental concessions.
A tenant rep broker can help business owners negotiate a lease that meets their desired level of responsibility. For those who prefer knowing exactly how much they must pay each month, a gross (or full-service) lease makes more sense. According to this type of lease, the landlord agrees to pay all operating expenses, property taxes, insurance, and maintenance costs and then calculates one rental amount that covers all monthly expenses. Tenants pay a flat-fee base or "gross" rent that includes their prorated share of those expenses.
Business owners who are willing to take on more responsibility have two additional choices: a modified gross lease or a net lease. In a modified gross lease, expenses are split between the landlord and tenant. Typically, the landlord takes care of property taxes, property insurance, and major exterior or interior maintenance. The tenant is responsible for utilities, smaller interior maintenance, and any minor repairs. In a net lease, some or all expenses related to the building are passed on to the tenant, including property taxes, property insurance, utilities, and maintenance—what is passed on depends on whether it is an absolute, single, double, or triple-net lease.
An experienced tenant rep broker can also help business owners negotiate rental concessions such as rent abatements and tenant improvement allowances. A rental concession is a gesture made by a landlord to entice a potential tenant to sign or renew a lease. Such concessions can take many forms and are dependent on the unique needs of the tenant and the property.
Tenant Rep Brokers Can Be Free to Use
Based on all the benefits a tenant rep broker provides, it is easy to assume that tenants must pay a high fee for their services. However, commercial real estate representation is generally free for tenants. In most circumstances, it is the landlord who pays the broker fees. Because brokers can quickly fill vacant spaces, landlords are willing to pay for their services. Many property owners already budget for these types of expenses and are used to paying both a listing agent and a tenant rep in commercial lease deals. As a result, business owners can enjoy the services of a tenant rep broker without having to pay anything.
How does a business owner go about hiring a tenant rep broker?
Once a business owner has decided to work with a tenant rep broker, it is time to start searching for one. So how can potential tenants find the most suitable broker for their market and business needs? Follow the tips below.
Finding the Right Tenant Rep Broker
There are two primary ways for business owners to find a tenant rep broker—through a referral or by vetting one on their own. Business owners should begin by talking to other professionals who have used such services and find out what the experience was like. Business owners can also check with their local Chamber of Commerce or business association for a referral. These organizations often have directories of members that include contact information for tenant rep brokers.
Alternatively, business owners can conduct their own research. They can find out who has recently represented tenants in their market and contact them to learn more about their process and services. If this initial conversation is meaningful and informative, the business owner can follow up with the broker and continue the search for a suitable property. Tenants should not be afraid to shop around, however, by calling additional brokers and having the same introductory conversation until they find the one that is right for them.
Check the Tenant Rep Broker's Reputation
When possible, business owners should learn more about a broker's reputation. They can do this by asking around or reading online reviews. They should look for brokers who have a reputation of putting their clients' needs first and shy away from those simply looking for a paycheck.
It is important to note that a tenant rep broker's reputation can affect how landlords treat a business owner's prospective tenancy. A broker who has had positive interactions with other industry professionals can reap the benefits of accumulated goodwill, while those who have had less than pleasant experiences with clients may have to deal with unwanted or undeserved consequences.
One way to find a reputable broker is by looking at their website for testimonials. If a business owner is still unsure how to proceed after reviewing testimonials, they can ask the tenant rep broker for references and speak directly to previous clients. A reputable broker should be able to provide contact information for a plethora of clients who can confirm their satisfaction.
Review the Tenant Rep Brokers Professional Experience
Before hiring a tenant rep broker, business owners should review the broker's professional experience. Is the broker full-time or part-time? How long has the broker been in the industry? How many square feet has the broker leased? Generally, a full-time tenant rep broker who has been in the industry for many years will have the most experience and the strongest relationships in the market.
Consider the Size and Industry of the Business
Not every broker will work with a client. Therefore, business owners need to identify a broker who specializes in their industry. For example, those who are looking for office space should work with an office broker, and those who are looking for retail space should work with a retail broker. The world of commercial real estate is not one-size-fits-all, and brokers who specialize in a particular area generally bring the most benefits to their clients.
In addition, business owners should make sure the broker they are interested in works well with companies of their size. As mentioned previously, some tenant rep brokers are only willing to work with clients seeking a minimum square footage. Typically, larger spaces come with more sophisticated landlords, so prospective tenants want to be sure that their broker is well equipped to handle such negotiations.
Look for a Tenant Rep Broker that Offers Additional Services
Finding the right space for a business is only the start of the commercial real estate journey. The best tenant rep brokers can assist business owners with finding the right consultants and contractors for personalizing their workplace strategy, IT infrastructure, and furniture selection. They can also provide important insights from past deals and should remain accessible when a business decides to expand, renew its lease, or relocate.
When should a business owner start looking for a tenant rep broker?
Business owners should start looking for a tenant rep broker early in the process. They need enough time to identify their broker, negotiate various deal points within the lease agreement, complete construction, build out the space, and move in. Business owners who fail to allow enough time for each of these steps may lose leverage and be forced to make uninformed decisions, which can ultimately result in financial loss or the interruption of business.
Do all landlords welcome commercial real estate tenant representation?
Some property owners do not welcome the services of a tenant representation broker because they prefer to deal with tenants directly. However, most large business owners and real estate investment trusts (REITs) prefer to work with a broker because it makes their job easier. Landlords want to know that tenants are informed so they can quickly and efficiently close the deal. They do not want negotiations to stall due to uncertainty or lack of knowledge on the part of the tenant.
It is also worth noting that business owners who choose not to utilize the services of a tenant rep broker are at the mercy of landlords and often experience higher rents, fewer incentives, and greater risk.
What if a business owner's existing lease includes a renewal option?
Tenants who have already signed a lease for an existing space should consider using a tenant rep broker to guide them through the lease renewal process. To help get the best terms possible, brokers often treat the renewal process as if the tenant were planning to move. Such tactics may make the landlord more willing to negotiate certain concessions to keep the tenant in the property.
Likewise, market conditions can change over the course of a lease. An area that once struggled with high tenant turnover might be seeing record-high rental rates for previously unrentable properties. A reputable tenant rep broker can help business owners navigate such volatility by providing an accurate market assessment and negotiating new lease terms.
Connecting with a Tenant Representation Broker
Why use a tenant rep broker? Nearly every business, including retailers, restaurants, warehouses, manufacturers, distributors, and offices, can benefit from the services of a tenant representation broker. Leasing commercial property requires business owners to be aware of market conditions, legal details, and industry-specific terms. Unless they have been conducting matters in this industry for years, however, they can find themselves overwhelmed by the commercial real estate process.

Therefore, business owners may find it in their best interest to connect with a tenant representation broker to help them find a space with the best lease terms that meets their requirements. Although engaging a tenant rep broker is not mandatory, it is certainly worth considering, given the complexity of the leasing process and the potential benefits their expertise can create for business owners.
You might also like...
Oct 11, 2022
What to Know Before Signing a Commercial Lease
Moving into a new commercial space is an exciting moment. Whether one is opening a new location or expanding into a larger space, this moment is a ...
Aug 28, 2023
New York City sushi chef Cheng Lin brings omakase concept to Brooklyn
Twenty-four years ago, Cheng Lin made a promise to himself after reading a Japanese comic book called "Shota no Sushi": If he were ever to open his ...
Apr 10, 2023
Triple Net Leases: Pros and Cons to Know
Interested in leasing a commercial space? Know your options! A variety of lease structures are available to you, including the triple net or NNN ...